Compare SaferVPN via BesteVPN.nl
(4.8)
Based on 2171 reviews
Payment methods
Visa, Mastercard, PayPal, American Express, Discover, Crypto Currencies, JCB, Diners & Google Pay
Apps for
Android, Windows, MacOSX, iOS, Chrome & Firefox
Protocols
IKEv2, OpenVPN, L2TP, IPSec & PPTP
Other
30 days money-back-guarantee
Contact methods
Social Media
Go to SaferVPN
View 1 packages
View 2171 reviews
Rating
BesteVPN.nl has a total of 2171 reviews for SaferVPN. In total BesteVPN.nl has 49748 reviews. Which means that 4% of all reviews is about SaferVPN. Our visitors give SaferVPN an average of 4.8 stars. The average score on BesteVPN.nl is 4.5. With this, SaferVPN scores higher than average.
SaferVPN Review
This is the review page of SaferVPN. Here you will find an in-depth analysis of the use of the VPN service at SaferVPN. In this review, we look in more detail at the following elements: Speed, installation, app use, the number of servers and countries, support and the various packages and payment options.
SaferVPN speedtest
We perform speed tests with speedtest.net. In addition, we opt for the server determined by speedtest.net and a multi-connection. First we perform the test without the connection with VPN and then with a VPN connection. We perform these two tests directly one after the other *. After comparing speed with and without VPN, we then perform a test on a VPN server in America.
The speed at our test location is very high. This allows us to fully test the speed of the VPN service.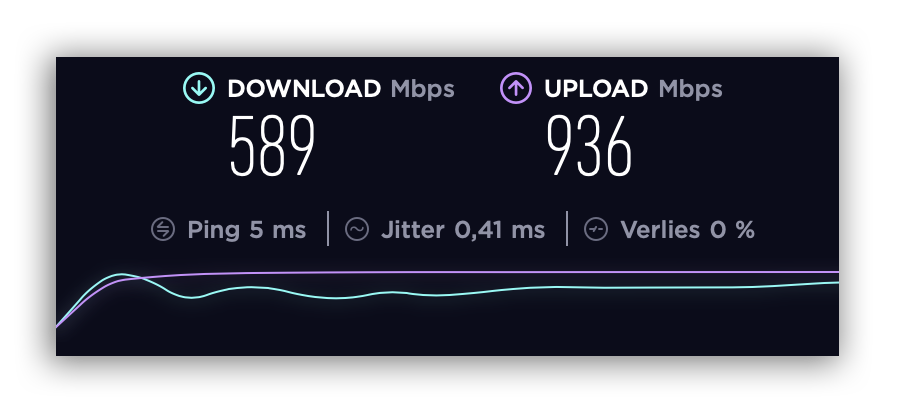 Speedtest without connection to VPN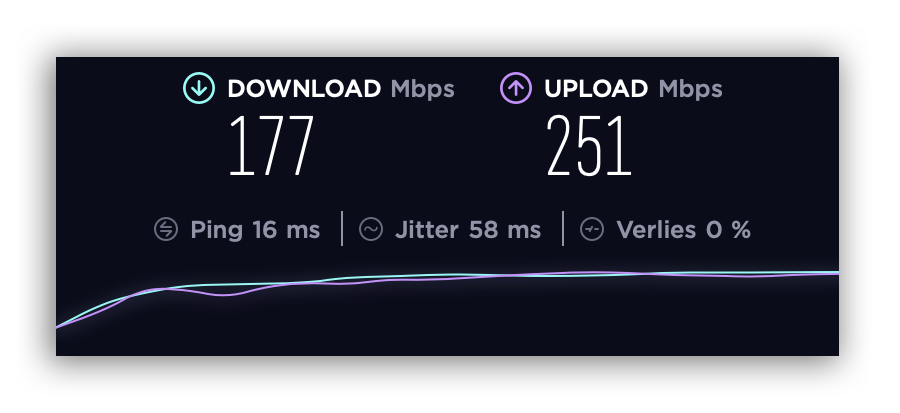 Speedtest connected with VPN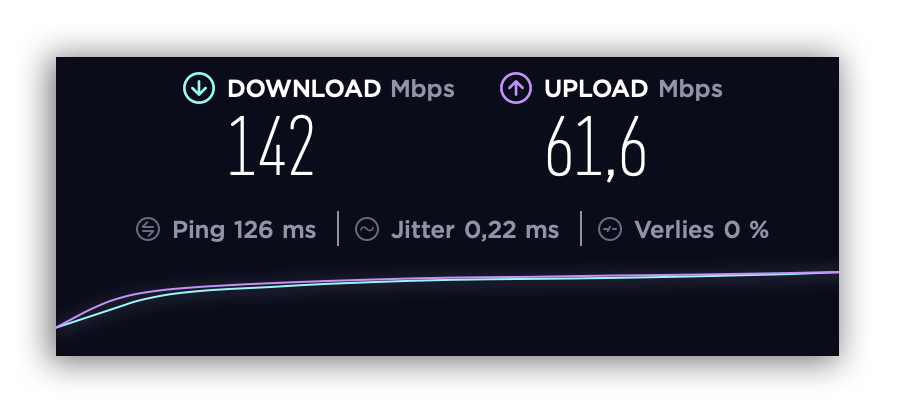 Speedtest connected with VPN in the USA
The download and upload speed at SaferVPN connected to a server in the Netherlands is excellent. What is striking is that the PING and Jitter are relatively high. This could mean that you may experience some problems with this, although a speed test is of course a snapshot. The speed connected to a server in America is also still more than good, a higher PING is logical here given the distance between us and the connected VPN server. However, we think that you can use the server in America at this speed for streaming.
* Despite the fact that we perform the tests as directly as possible after each other, a speed test depends on many causes. As a result, a speed test is always indicative.
SaferVPN Ease of installation
Installing the required app is very easy. You log in to your environment on the SaferVPN website. The app that belongs to the system you are logged in with is automatically indicated.
We have installed the Mac version. After downloading, drag the app to the Applications folder and the app is ready to use. Use your data from SaferVPN to log in to the app.
There are other apps besides the app for Mac that you can choose from. Below they are all listed.
SaferVPN app easy of use
In this analysis, we thoroughly tested the Mac version of the app and found out whether it is handy and functional. The app chooses the best server that you can connect to in our case, the server in the Netherlands. Of course you can also choose which server you want to connect to. We think that choosing between the different locations can be indicated somewhat better.
In the app it is also possible to indicate which VPN protocol you want to use to connect to the servers. By default, these values are set to an automatic selection. The app then chooses the protocol that is most suitable for you at that time. Do you want to be in control? Then you can easily adjust that in the app.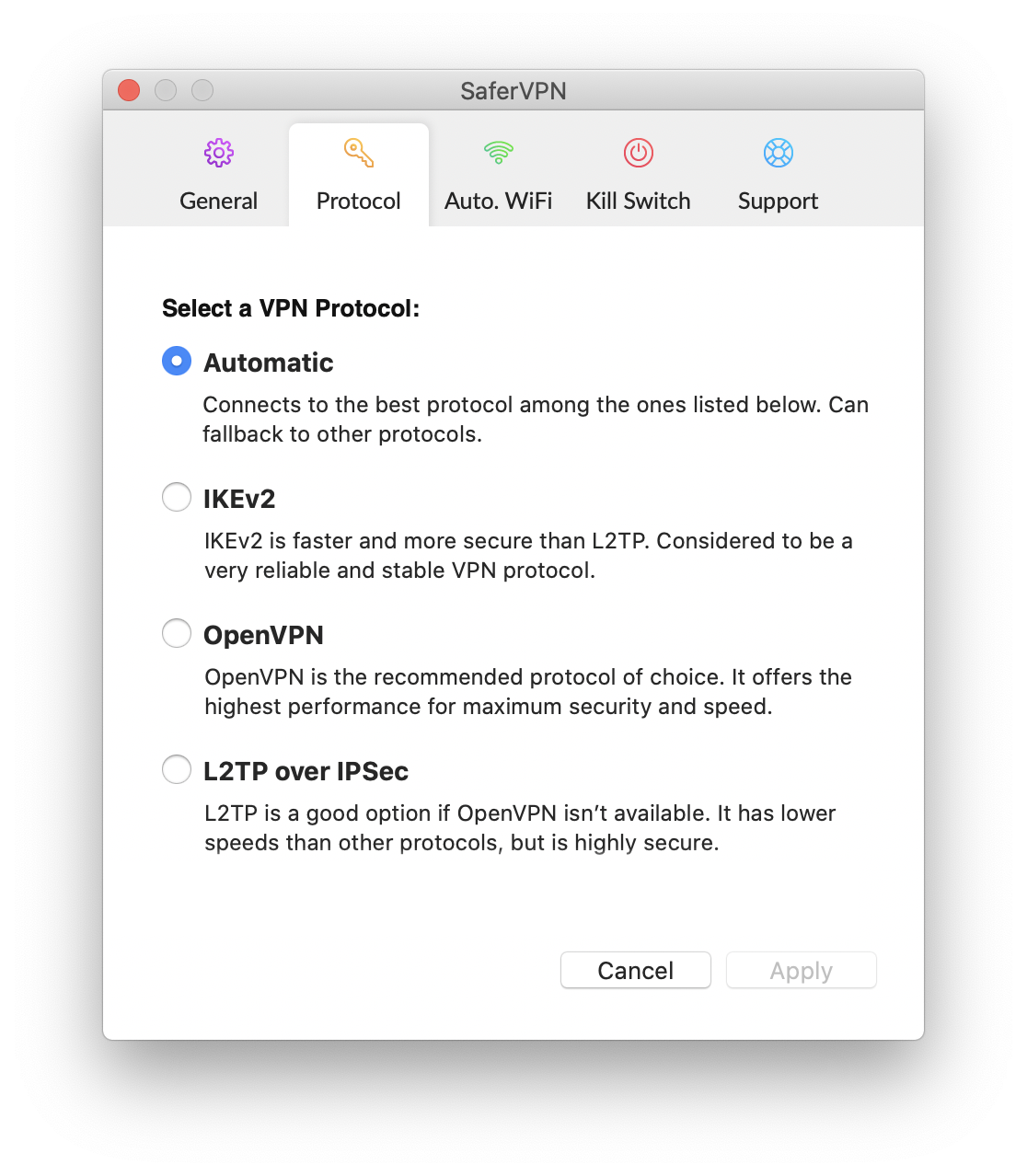 Automatic protocol selection or choose easily yourself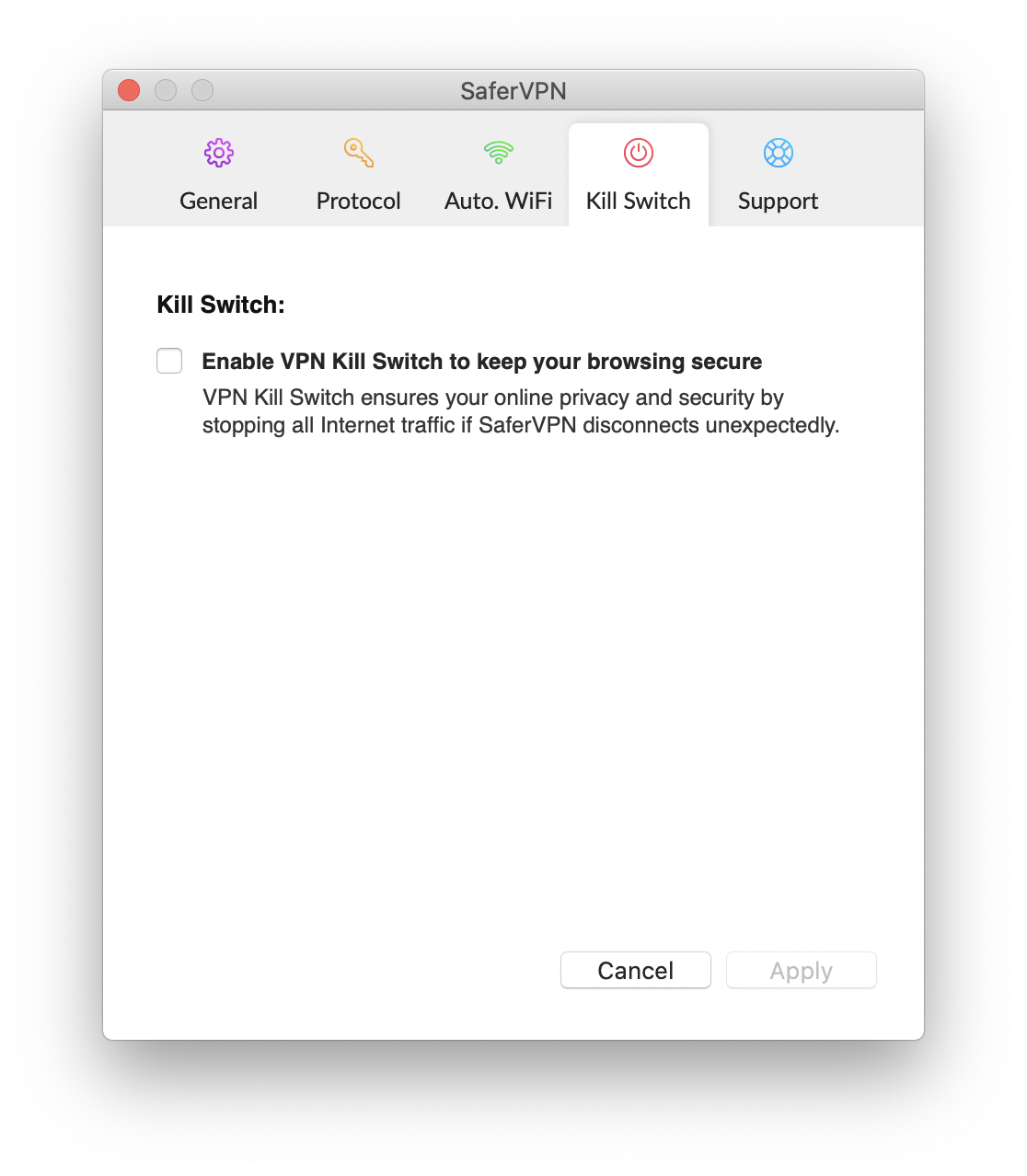 Use the Kill Switch to be sure of using the internet with a VPN connection
The app also contains a quick reference to support. Unfortunately, the support is not in the app itself but you are being redirected to the website of SaferVPN. The speed test that you can click also goes to speedtest.net. We would have preferred a speed test to the different server locations in order to make the best choice.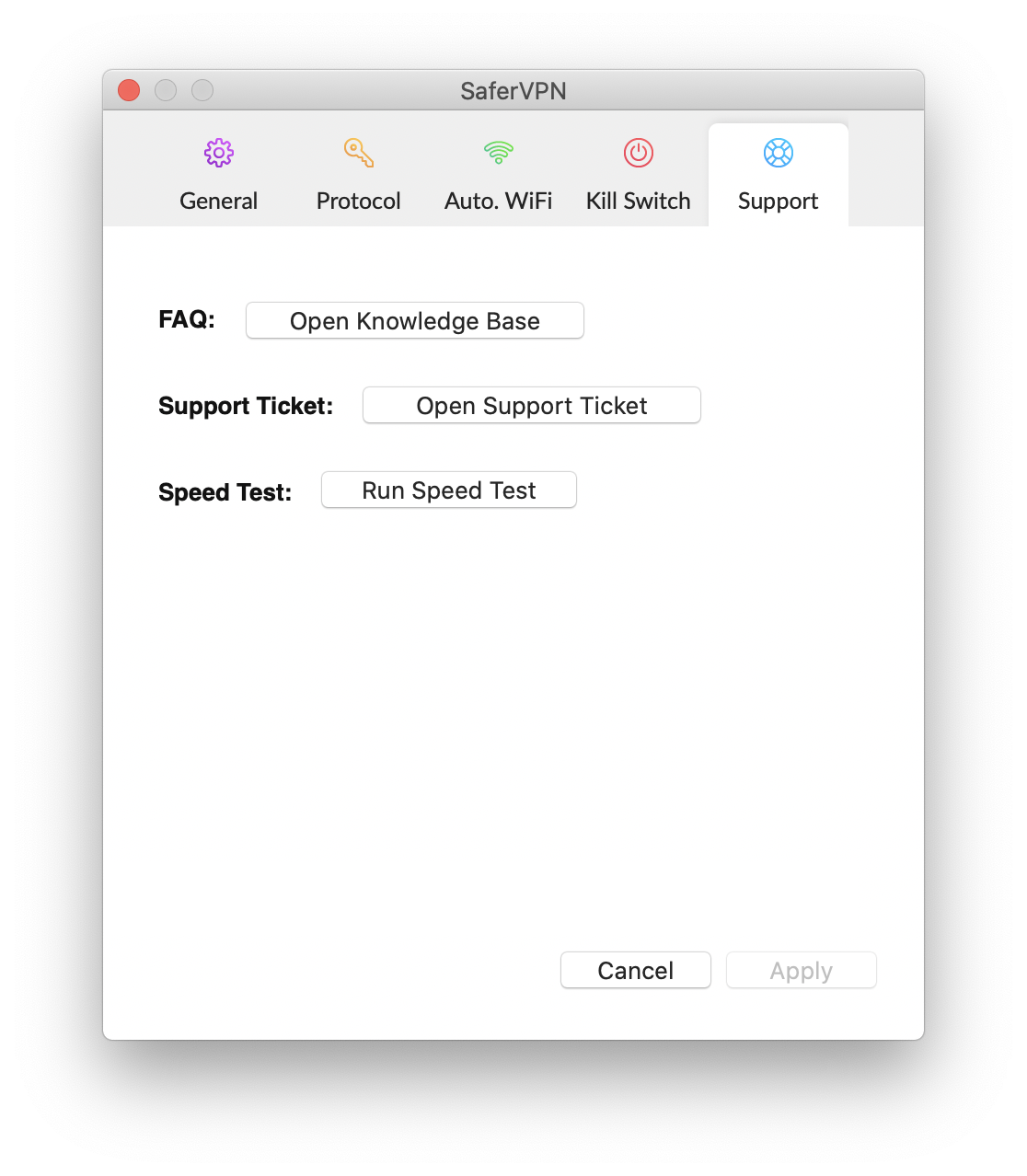 SaferVPN servers and countries
At SaferVPN you can connect to approximately 1300 servers, at 53 locations in 50 countries. This number of servers is not the most that you can find among the VPN providers. But what SaferVPN does well is making various streaming servers available. With this they guarantee that you can always use the different streaming services of this country in the countries where they are available.
SaferVPN support
We are going to test the support of SaferVPN by starting a live chat about a fairly simple question. We then look at how quickly customer service responds and how quickly our question is answered. In addition, we also check whether the customer service representative is friendly to us, even though we ask a fairly simple question.
After filling in the chat, which is available 24/7, it was stated that we were in 5th place. However, after 13 seconds we were able to speak to someone who, after 34 seconds, received a very adequate answer to our question. Here I again asked for a copy of the chat conversation, which would be sent automatically after the chat ended. This mail has not yet been received 2 hours after the chat ended. A pity, but the support was so quick with responding that we condone this. Good support at SaferVPN!
After sharing these results, we look at the support page of SaferVPN. Is the support page intuitive? Do you find the answers to your questions quickly?
The support page of SaferVPN is easy but clear. It offers you a search function for finding your answers. In addition, it is full of quick start guides to quickly see for each device how you can use the VPN service of SaferVPN. Below that are all categories with the answers to frequently asked questions. We recommend that you simply use the search function that works very well.
SaferVPN packages and payment options
The VPN package from SaferVPN gives you the option to connect to 5 devices at the same time. The price per month is quite solid at the price. However, if you choose to immediately close your subscription for 3 years, you will only pay € 2.29 per month.
| Package | Connections | Data limit | Renews automatically | Length | Package price | |
| --- | --- | --- | --- | --- | --- | --- |
| VPN | 5 | No limit | Yes | 30 dagen | € 11,77 | Order |
| | | | | 1 jaar | € 59,88 | Order |
| | | | | 2 jaar | € 71,76 | Order |
| | | | | 3 jaar | € 83,39 | Order |
You can take a 24-hour trial at SaferVPN to test the service without obligation. Do you need longer? Then you can also try the VPN service by taking out a subscription and canceling your subscription within 30 days if you don't like it. Within these 30 days, they have a money-back-guarantee.
You can pay in 9 ways at SaferVPN. This allows you to use almost all possible payment options at SaferVPN. You can also pay with Bitcoin here, so even the payment itself can remain anonymous!
Conclusion review about SaferVPN
The services of SaferVPN are very good. Certainly if we know that this is the cheapest provider in our top 5, we come to the conclusion that the price/quality ratio is excellent! We believe that because you can try this provider 24 hours and also have a 30 day money-back-guarantee, you should definitely test SaferVPN!
Go to SaferVPN
View 1 packages
View 2171 reviews
Reviews
---
Alan Ralph Gold gave SaferVPN:

5 stars
Written on: 08-06-2014 on Trustpilot
It sounds melodramatic but Safer VPN has changed our lives. It has been so frustrating reading about the programmes on BBC TV in the UK without being able to access them. Not any more. The service has been efficient, quick and effective. It is also competitive in price so I hope anyone looking for a brilliant VPN will head this way.
Write a review
---